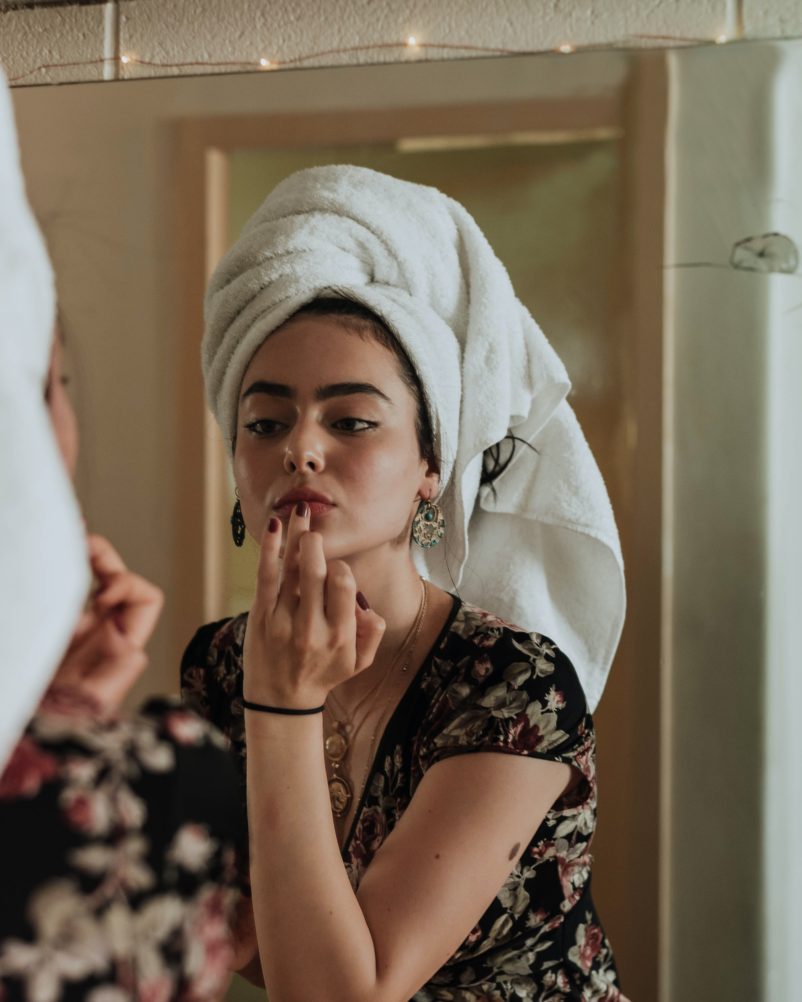 In May of 2019, Kylie Jenner announced her newest venture–a skincare line. Her line includes face wash, vanilla milk toner, serum, face moisturizer, eye cream and a walnut face scrub. Kylie posted a video on the brand page, claiming the face scrub product was great for skin.
It's really gentle. It's gentle enough to use every day.

Kylie Jenner, Creator of Kylie Skin
The internet immediately criticized Kylie for promoting the walnut face scrub. Twitter was ablaze with people stressing how dangerous the ingredients in the scrub are. The walnut face scrub uses walnut powder; the same thing that St. Ives used in their infamous Apricot Scrub.
A professional esthetician on twitter also condemned Kylie for telling her customers to use this product every day. Exfoliator is not a product that anyone should use every day, even if the bottle informs you to do so. Instead, try it out once or twice a week. If you feel your skin getting raw, use less of the product.
If you are interested in skincare and other great beauty products, check out our article: Find Your Perfect Beauty Subscription Box.
---
Walnut Exfoliator: An Issue For St. Ives And Kylie Skin
St. Ives Apricot Scrub is a fan favorite. It is both super cheap and seems to get results for people everywhere. However, the product seemed to create issues for skin in the long run. That is, it caused micro-tears (or small rips) in the skin. Over time, micro-tears create scaring on the skin that typically does not go away.
In 2017, St. Ives had a lawsuit filed against them from two women. Both women claimed the product damaged their skin as a result of the walnut powder ingredient. They also claimed that the product had been advertised as noncomedogenic (meaning it does not clog your pores). However, both women stated that this information was not true.
The St. Ives lawsuit was a major deal, as many people had been using the product for a long time. Gigi Hadid was one of these people, and she stated that she had been using St. Ives since high school. Eventually, in December 2018, the lawsuit was thrown out of court. There was no real proof that the Apricot Scrub was the cause of any skin damage.
The truth is, walnut powder is not the problem in either case. Any type of physical exfoliants can irritate the skin–especially if you are applying the product forcefully or with forceful motions.
---
Beauty Influencers Divide On Kylie Skincare
Beauty influencers play a large role in determining the products we purchase. Social media influencers have major platforms–often reaching over a million followers. Brands know this, and therefore rely on these platforms to advertise their products.
Beauty influencers are hard to trust, as they are more like celebrities than regular people. Lately, most beauty influencers focus more on drama than actual beauty topics. As consumers, it is important that we trust what influencers are saying to us. However, there is really no oversight on how influencers operate. They do what they want, and we have to make the decision to trust them or not.
During the Kylie Jenner frenzy, influencers all spread into two groups; they completely loved it or hated it. Some people were called out for 'sucking up' to the billionaire about her products. Additionally, many people believed influencers were posting fake reviews without consistently using the product. On the other hand, some influencers came out with reviews that completely drag the products. Regardless, it is difficult to know which reviews to trust–especially when influencers are being paid to promote specific brands.
---
Penny Tovar On Kylie Skin
This beauty influencer came in with a video that addressed all the controversy surrounding Kylie Skin. However, she still reviewed the products in-depth. Penny tried the Kylie Skin product for 8 days straight to get a real feel for the products.
All the products ranged from $20 to $24, which isn't too expensive for a name brand skincare product. While Tovar admits that she is not a big fan of the Jenner/Kardashian family; when she heard of the products, she wanted to use them herself. As the brand announced, the products all seem to be cruelty free, vegan, gluten, and paraben free.
A Product Review We Can Trust
Penny Tovar actually takes the time to read through all of the products' ingredients. Penny's major issue with the products surrounded the fragrance. Fragrance is one of the top reasons people have skin issues and struggle with skin sensitivity.
Penny liked some products more than others. For example, she loves the Vanilla Milk Toner, and it would be the type of toner she would add to her beauty routine. Unfortunately, Tovar feels the fragrance is too much and thinks it does not smell good. Similarly, Penny thinks the eye cream is a good product, but it just doesn't work for her oily skin type.
The face wash and face moisturizer fall a bit flat. Penny says they feel like basic products that you could easily get anywhere for a much cheaper price. On a positive note, she highly recommends the moisturizer by Kylie Skin. It is very good for daytime wear–especially if you are an avid makeup wearer. The moisturizer leaves a matte feel that could double as a primer.
Finally, Tovar discusses the walnut scrub. Penny revealed that she received direct messages on Twitter begging her not to try Kylie's products. As discussed, the backlash on Kylie's Skin issues are mainly rooted in the walnut powder of the exfoliator. Many users told Penny her skin would be damaged and terribly scarred after just one use.
However, Tovar agrees that exfoliators can be damaging to one's skin–no matter what products are in them. Penny actually enjoyed the product, and says it left her skin baby soft. However, she admits that she does wish Kylie took a different route and used a chemical exfoliator–which is much more gentle on the skin.
Penny's Opinion On The Kylie Skin Drama
Penny agrees with commenters that Kylie Jenner is lying about actually using any of these products.
Saying that these products are the secret to why you look the way you do is a lie. If I was a billionaire, I wouldn't be using $20 products because I can easily afford the high-end stuff.

Penny Tovar on Kylie Skin Products
Penny felt that the people dragging Kylie's brand were right in doing so. She stresses that influencers are usually willing to lie for money. Of course, it is okay to have sponsors and brand deals. However, you cannot just lie to your viewers about it. Influencers praise the product on their platform, even when they know it is not something they would use again.
However, Penny makes a point in saying you can hate the infamous family without hating on everything they do. Judge the products as they are–not based on who made them.
---
There is definitely a bigger picture here that all young women can learn from. That is, the majority of 'beautiful' people you see promoting brands do so in order to get a check. Kylie Skin is a perfect example of this; many influencers (including Kylie herself) promoted the line without even using it in their daily lives. Young women fall into the trap of thinking that these products are the secret to looking like influencers. The truth is, these 'beauty' influencers look the way they do because of high-end products, hair and makeup teams, and even plastic surgery. So, before you listen to an influencer, make sure you do your own research on the product first. Moreover, remember that you do not need to change anything about you. Your natural beauty shines brighter than any makeup ever will.
---
Are you interested in reading more about skincare?