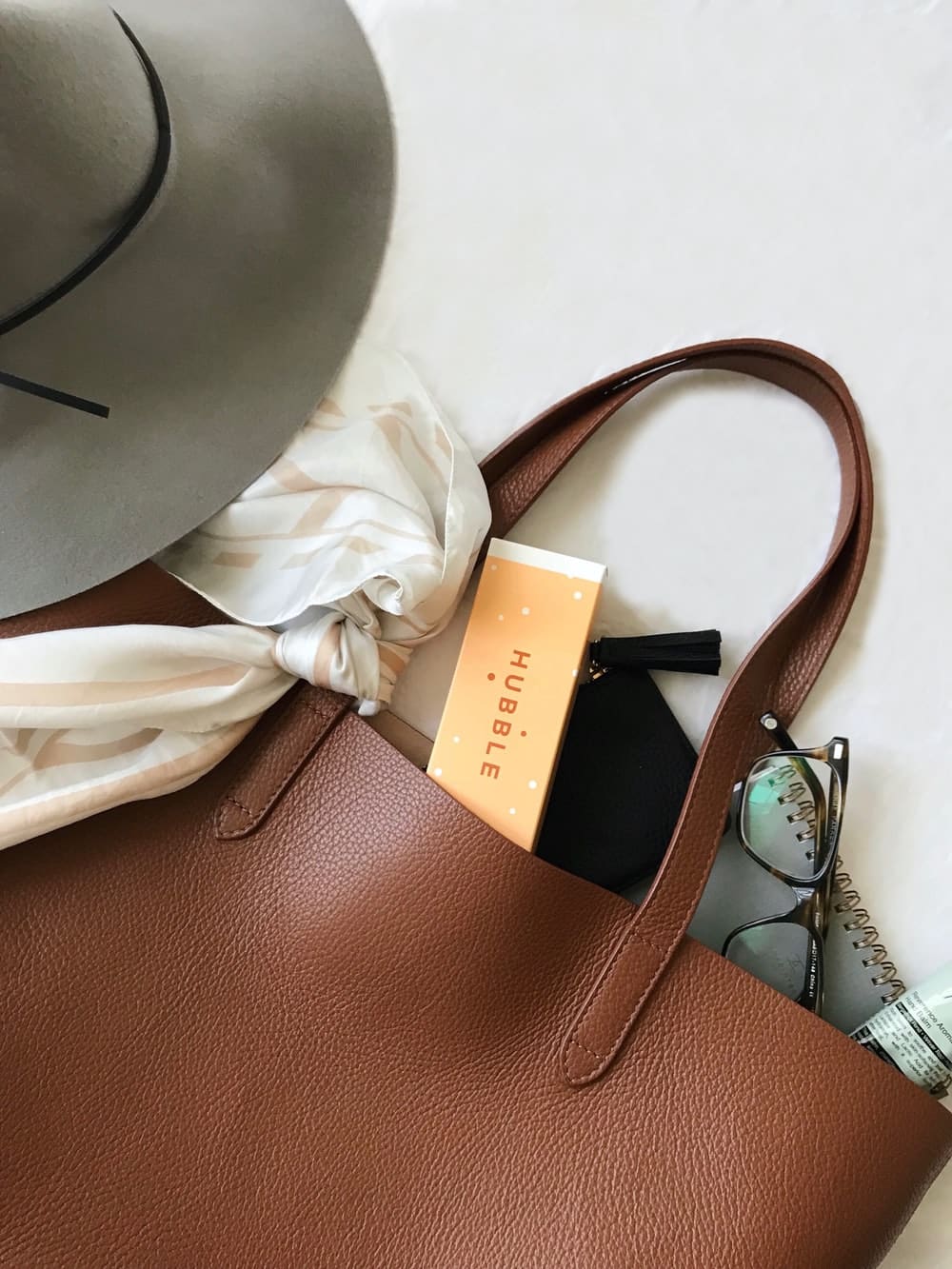 We carry just about everything in our purses. We have our keys, wallets, chargers, pens, pads, tampons, old receipts and every coupon. It varies from woman to woman because we are mothers, doctors, writers, influencers, firefighters and models. We all know the basics – lip balm, a compact mirror, some gloss – what else can a woman need? Allow us to illuminate your purse must-haves, so you can finally clean out your loose change and gum wrappers from your handbag, and only pack your essentials.
"[With these essentials] you are ready to conquer your day."
This is an important one, because while we're so focused about getting our makeup perfect, we can easily forget about the basic needs. The truth is, we're all human, and part of that we never know when we're in for a sneeze or a teardrop. Thankfully, Kleenex sells very convenient mini packets of tissues, that are an easy essential for our handbags. And if you suffer from seasonal allergies, it's a good idea to keep a package of Claritin or another relief medicine, as you could always wish you had it.
Every single woman needs an emergency concealer. The stress of adult life inevitably brings baggage under our eyes, and looking like a raccoon does not boost confidence. But with one swipe of It Cosmetics Bye Bye Under Eye, you can make them disappear and liven up the windows to your soul. With waterproof and full 24-hour coverage this is the concealer essential for a woman's purse.
This definitely needs to be included in your purse must-haves list, especially for getting up in the morning or right after a meal. Mints will always score higher than gum. They're classy and chic – both things gum can never dream of being. They're also just far stronger and last a lot longer than the average spearmint gum. We recommend Altoids Smalls Peppermint Mint Candies. They're sugar-free and taste like Christmas in your mouth. They're also quite inexpensive, as a can costs only about a dollar or so at the supermarket. Always having fresh breath, ensures you are ready to conquer your day.
Every woman needs her moisturizer. No one wants dry or cracked hands, and that's not something you should expect public restroom soap to fix. So that's why we must bring our own travel-sized moisturizers when venturing outside the house. We recommend Aveeno. It contains oats for dryness and is fragrance-free for sensitive skin. It's must-have as a purse essential. We also recommend a mini hand sanitizer, as the outside world is often quite icky.
This is another one you don't want to take for granted. We've all had days where we've forgotten our headphones at home, and regretted going without our favorite songs or YouTube videos. Which is why it's a good idea to just have a pair to live in your handbag. Thankfully there's plenty of solid, affordable alternatives for whatever phone you have, so you don't have to shell out a ton of cash for the official Apple or Samsung brands.
You always need a full lash. To keep that in check, you have got to have L.A. Girl Volumatic Mascara. This is a must have for every woman. Going out but need to get yourself put together quickly? Mascara. Brush on a coat and open up your eyes' full personality.
A go-to lipstick is a necessity in every purse. Even when you have time to put yourself together at home, you never know when you'd lose your lips after lunch or coffee. So we recommend Marc Jacobs Beauty Le Marc Lip Creme. It's zesty and light for any moment and keeps your lips enticing. In a world full of "go, go, go," that is a necessity.
A powder is an absolute must to keep your foundation smooth & your face fresh. Bobbi Brown's Sheer Finish Pressed Powder is the best as it promises to endure the day with you as it keeps your makeup on-point. We can also recommend a face spray to help keep your makeup at its best all day.
We don't always have the time for a mani-pedi. But that's ok, as it can always be done at home. OPI's line of nail polishes are all very affordable, each only costing around $10, come in a wide variety of colors, and tend to last for a while. And they're small enough to keep in your purse, so you can easily fix it anytime your polish gets chipped. We could also recommend keeping small clippers or a file there, just in case you ever come across an annoying hangnail.
Last but not least, you need blotting papers. You never know when your makeup is smudged and needs some erasing. We highly recommend E.L.F. Mattifying Blotting Paper. Keep your makeup light and fresh and wipe away the oil without damaging your makeup in any way. This is a must have for every woman on the move, both figuratively and literally.
---
"We promise you always be prepared for what life throws at you."
That just about wraps up all your purse must-haves. Of course, a pair of sunglasses, some hair ties, tweezers, an eyebrow liner, bandana, hairbands – all are excellent add-ons to these. After all, you can never be too prepared. A purse is an essential in and of itself, but what it carries is what defines & sustains a woman. Women are power, and every power needs a place where they can pump their energy from. We have yet to meet a woman who doesn't feel rejuvenated and totally in control after she swipes on some bold lipstick or mascara.
Keep these essentials in your purse and we promise you will always be prepared for what life throws at you – whenever it throws at you!
Interested in more tips for your everyday routine? Try these out.