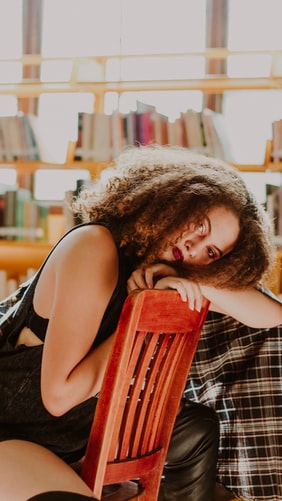 If you have curly hair, you know that even though it's super beautiful and voluptuous, it can be hard to manage sometimes. We're all about letting your hair do its thing. But there are some ways to get the most out of your stunning waves and ringlets. 
We know curly hair can be difficult to navigate at first, but with consistency and the right products–you will do great! This article is here to help you figure out how to make your curls more gorgeous than ever.
Are you interested in learning about some incredible curly hair secrets? If so, you're going to love the tips, tricks, and product recommendations we've got for you down below. Here we go:
---
Sleep With Silk
Believe it or not, the fabric you sleep on plays a big role in the state of your hair. Not only is silk a super luxurious and stunning-looking fabric. It is also pretty great for your hair. Since your curly hair needs all the natural oils it can get to live its' best life, it is crucial to consider the material you sleep on.
For example, cotton bed sheets often soak up a ton of your natural oils and moisturizing products. This can mess with your curls by sapping the hydration from them, which, as a result, irritates your cuticles and can lead to frizz and breakage. Thus, it is essential to use silk in your nighttime hair routine.
To avoid these curly hair mishaps, here are two terrific ways to help you take care of your hair at night:
Your first option is to get a silk pillowcase. A silk pillowcase will not only cater to your curls but will also work to improve your sleep quality! For an amazing silk pillowcase, we recommend Bedsure's Pillow Covers.
Silk pillowcases aren't always for everyone, because they do tend to slide around a lot.
But, you can't go wrong with a turban that respects your curls and keeps your natural oils intact! So, if you are not interested in a silk pillowcase, you can get a Silk Turban for sleeping.
---
Don't Over-Cleanse Your Curly Hair
Of course, depending on your day-to-day environment, amounts of sebum, and other factors, you're the one that needs to make calls on how often you wash your hair. But it's never good to wash your hair every single day – especially for curly girls. If you wash your hair every day, you may be causing major damage.
Your hair really does rely on those natural oils (that get washed out) to keep its shine, softness, and structure.
So when you wash it too much, you are stripping it of the oils it desperately needs. In the end, you will have less protection and increased breakage.
In fact, in our article on how to achieve Healthy Hair With Lorraine Massey's Curly Girl Method, we discuss how she recommends avoiding shampoo altogether. She recommends washing it only with your fingertips and water. If you do not want to use your fingers, you can use a scalp massager instead. Our favorite hair cleansing brush is MAXSOFT's Scalp Care Brush. The product comes in three colors and is under 10 dollars!
---
Go Sulfate-Free
Not sold on ditching the shampoo yet? That is totally okay because it is your hair and your rules. But, if you are sticking to shampoo, a great tip is to opt for sulfate-free products. These products work by keeping as much shine and form in your hair as possible.
Sulfates are pretty well known for dehydrating hair and stripping it of everything you need. So, it is really not going to help you maintain those natural oils that your hair needs to thrive. For a sulfate-free shampoo, we recommend Shea's Moisture Shampoo & Conditioner Set.
---
De-tangle Curly Hair In The Shower
While conditioning your hair in the shower, use a wide-toothed comb to detangle. If you try to de-tangle it after your shower–even if it is just your fingers–you could be splitting up your curl formations and damaging your hair.
And, chances are, you like it when your curls stay stuck together instead of splaying out and getting frizzy. Whatever you do though, make sure you are using your fingers or a wide-tooth comb to detangle your hair in the shower. 
One of our most important tips is to avoid fine-toothed combs at all costs. It is likely going to break up your curls and moreover, rough up your cuticles. We love Giorgio's Travel Purse Comb, and it is made so you can take it wherever you go!
---
Use Leave-In Conditioner On Curly Hair
While you should always condition your hair in the shower, it's not always enough to maintain smooth and shiny curls. That is where getting a light, leave-in conditioner is super important. Leave-in conditioners work to protect your hair, hydrate it, and keep your lovely curl structure all at once.
But, it is important to make sure that the conditioner you get is specifically formulated for curls. If you use Moptop's Leave in Conditioner, your curls are going to be living their best life in no time!
---
Liz Fe Lifestyle was made with curly girls in mind. We know how hard it can be to navigate your curly hair at first. Moreover, we know it is difficult to find the right products when most shampoos, conditioners, etc. are catered to hair on the straighter side. Thus, we hope that you can find both comfort and useful information in our curly girls articles. Hopefully, there will be more products that enhance the beauty of your natural curls!