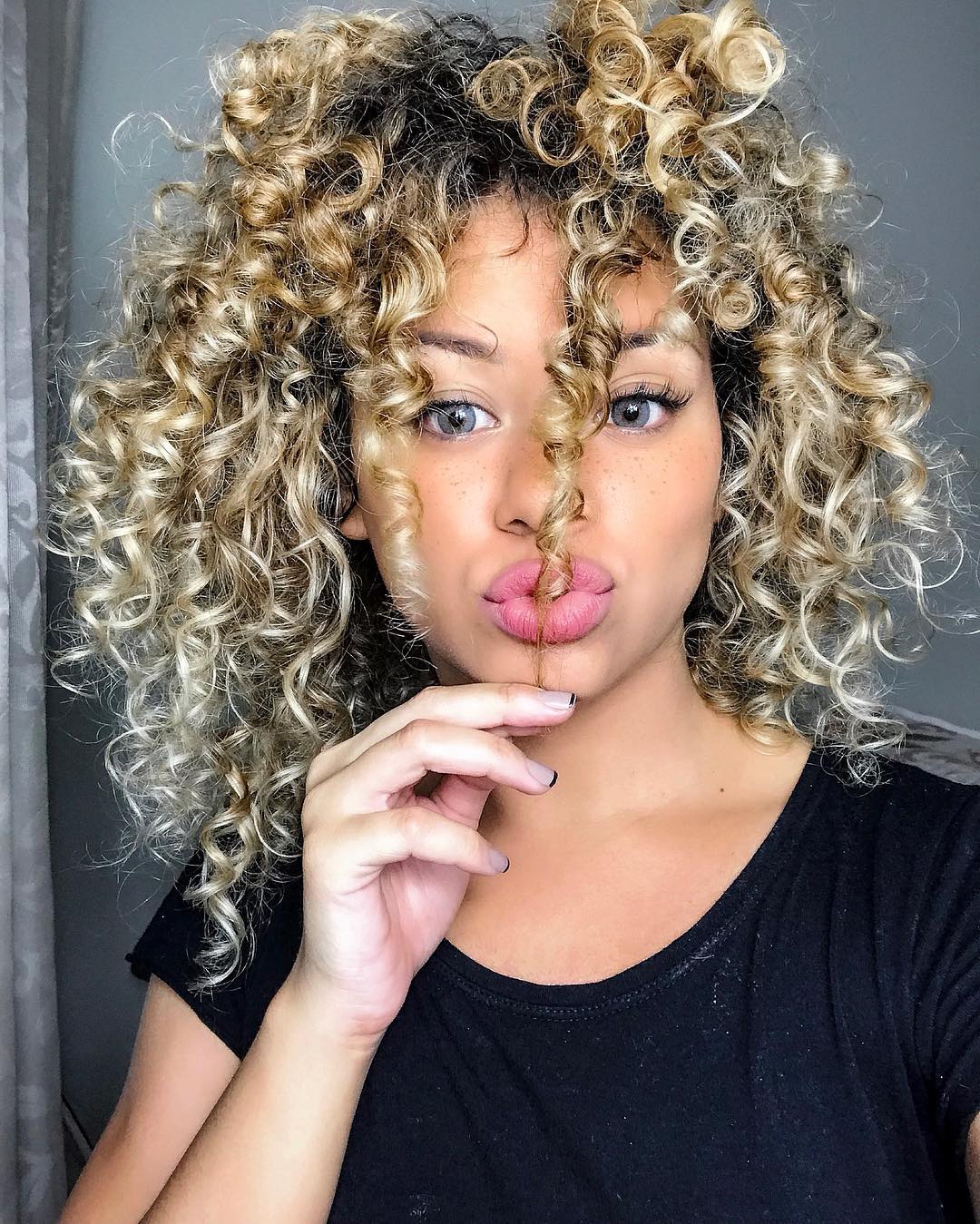 Girls with curls and kinks are all too familiar with the struggle that comes with everyday hair care. There's always the humidity trying to ruin a perfectly good twist out, or that disappearing satin scarf falling off once again after a good night's sleep. Maintaining moisture, length, and the ever desirable definition is a balancing act. But, your curls are worth the time. And that time should involve hair products that enhance your natural hair. The following must-have curly hair products cover all your bases: deep cleansing, moisturizing, defining, and growth promotion. Ready to achieve the ultimate, healthiest set of curls?
---
Curly hair product build-up is very real and never fun. Apple Cider Vinegar is well-researched and proven to have a laundry list of benefits. It kills bacteria, lowers blood sugar, helps weight loss, and most importantly, clarifies and exfoliates your scalp.
Since ACV is an acidic substance it helps lower your hair's pH balance. It flattens and closes the hair cuticle, making your hair shinier, easier to detangle, and less prone to breakage. Usually, if your hair looks dull, brittle, or frizzy it's because your pH balance is out of whack. An ACV rinse can lower those levels and bring your hair back to a healthy balance. Wether you are suffering from an itchy scalp or a weak hair follicles, a quick ACV wash will do the trick in no time.
How to Use ACV for Hair?
Making an ACV wash is quite quick and simple.
1-3 tablespoons of ACV (with mother)
20-30 oz of water (it really depends on your hair length)
Mix the ACV with the water and apply it evenly over your scalp after using shampoo and conditioner. Let it sit for about five minutes and rinse out with water. If the acidic smell is too much for you to handle, you can mix in a few drops of your favorite essential oil.
Watch out!
If you feel that your scalp issues have deteriorated, please discontinue using the rinse and see a dermatologist. Always dilute ACV with water or else the acetic acids can cause irritation of the scalp.
Your grandmother knew what was best when she told you to massage your scalp every night. Promoting a healthy scalp is vital for curly hair growth. Scalp massagers are one of the best tools you can use to not only exfoliate your scalp but also stimulate it. Stimulating your scalp gets the blood flowing to your hair follicles, reminding them that they are still alive which encourages new hair growth. Research has shown that a good scalp massage can indeed increase the thickness of your hair. So, if you are aiming for thicker, fuller curls, we recommend investing in a scalp care brush.
You don't have to sentence yourself to a lifetime of hand cramps though.
After cleansing your hair consider having a self-care moment. Scalp hair brushes usually include handgrips, making your job ten times easier.
How to Use a Scalp Massager?
It's quite simple really. You should use the tool for at least five minutes every day either on wet or dry hair. For better results, we recommend using it when you shampoo to get a deep cleanse. The trick is to use slow, circular movements.
Detangling is back-breaking, but unavoidable work. When you went natural people warned you this would be the kicker. If they didn't, I'm sorry. But, a detangling spray can make up for it.
DevaCurl No-Comb Detangling Spray acts as a leave-in conditioner that loosens knots and tangles. You can spray on fresh washed hair or tackled tangles on dry, second-day hair. The spray makes combing your curls with an actual comb a thing of the past. And that's probably for the best considering your fingers are the gentlest things you can use during your hair routine.
Three words: Bounce, shine, hold. Yes, we want you to be commercial-ready. No, you don't have to actually star in a commercial. But, you could, and your hair would look absolutely great.
Honestly, giving custards a try could come off as intimidating.
Who wants build-up after they've so meticulously worked to cleanse their hair? We recommend trying a custard because of the hold and definition benefits. One swipe of this custard and your curls will shine. Miss Jessie Coily Custard is heavy enough for whatever style you have in mind, while still being light enough to not make your kinks look limp.
Laying edges is cute, but not so much when they start thinning. If you're into gelling down your baby hairs you should also consider treating your edges daily. It's a 10 Haircare Miracle Oil Plus Keratin is a highly effective edge treatment that promotes growth with keratin — the holy-grail for those who seek thicker, longer locks.
The blend of sweet almond oil and other pure therapeutic grade oils helps reduce dry, itchy scalp. With this blend of oils, you're still able to put your curls in all kinds of styles that may create friction and still have edges that will live to tell the tale.
Sometimes, all your curls need is a little encouragement and this curl activator does just that. This product is your go to if you are looking to define, moisturize, and maintain your curls. All you have to do is rub a small amount in your hands and run it through clean, damp hair.
This curl activator contains bio-fermented tomato fruit extract which works to shrink hair cuticles and enhance curls. It also has rice amino acids that hydrate your hair and help control fizz.
---
Yes, taking care of your curls can be a hassle. But, honey, your curls need to shine as bright as that smile on your face. When you look good, you feel good. So get up and start your curl care because we promise it's worth it.
---
Interested in continuing your natural, curly hair journey?