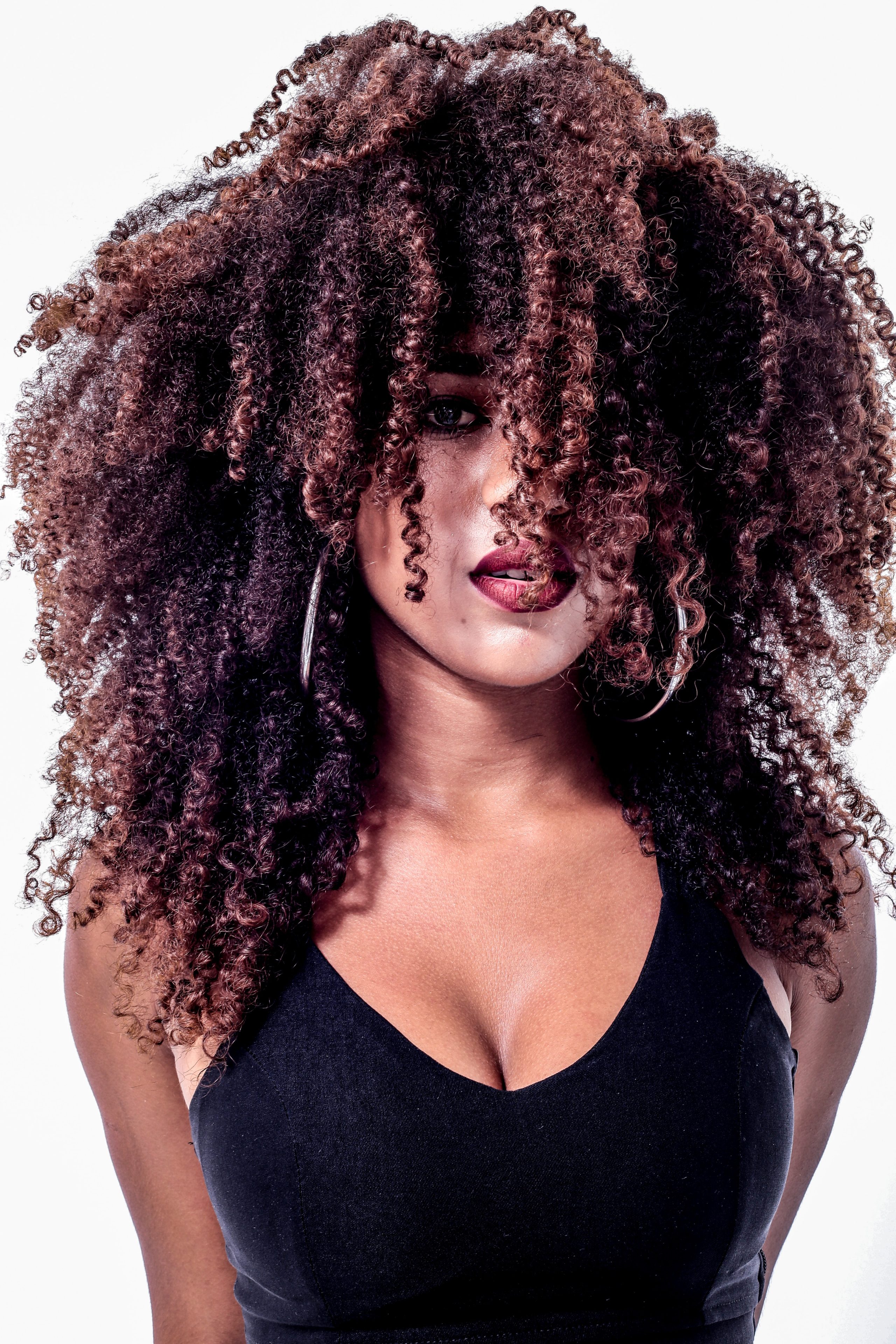 Ever wonder where the best places on YouTube are to find amazing tutorials for curly hair hairstyles? Look no further! Here are 11 beautiful curly hair YouTubers that are going to give you some easy and gorgeous curly hairstyles that you can create quickly:
Curly Hair Youtuber Andreaschoice
Andrea has some beautiful voluminous curls, and she is the master of effortless curly hairstyles that are going to make your hair absolutely gorgeous. Her channel has many amazing curly hair tutorials (as well as many fun DIY videos)!
Some great videos to reference if you ever want to know Andrea's methods for achieving stunning romantic hairstyles, check out her video 8 Curly Hairstyles for Stubborn Hair. Andrea's video covers how to make the most beautiful messy bun in existence, some cute twisty space buns and pigtails, and so many other creative variations.
If you love Andrea's hair tips, don't stop at just one video! Also, check out her video 5 Everyday Curly Hairstyles. This video is a little bit quicker to complete than the previous. Still, both videos have effortless and incredibly gorgeous styles to choose from.
Andrea and a bunch of other YouTubers use bobby pins for their hairstyles. If you don't already have bobby pins, the good news is, they are super cheap, and you can grab some from Amazon for just $2.19.
Curly Girl Starterkit
Starterkit also has some fantastic hairstyles to try out! Her video 10 Easy Hairstyles for Curly Hair is perfect if you're looking for easy curly hairstyles that you can complete within a couple minutes or less.
She also has a lot of cute variations on up-dos and half-up hair in her video. Her channel is all about curly hair, so definitely dive in and check out more of her videos for some awesome hair ideas.
Lana Summer
If you want some lazy-girl curly hairstyles, Lana Summer is where it's at. Her video 9 OF THE BEST CURLY HAIRSTYLES FOR PEOPLE WHO ARE AS LAZY AS ME is perfect for the curly girl that wants to give her hair a quick check-in before heading out.
Lana's video is absolutely worth the watch, especially if you're new at styling hair and you need some more straightforward techniques to get started! She also has amazing advice on how to revive and maintain your curls with easy natural home remedies.
IndiaBaston
India Baston shares 3 cute up-dos in her video 3 EVERYDAY CURLY/WAVY HAIRSTYLES. India's styles are easy to do, and she also offers an innovative volumizing hack for ponytails!
Her hack uses a claw clip similar to Revlon's Strong Hold Hair Claw Clips. You can grab a couple of your own for just $3.28.
ItsRimi
If you're looking for some princess-like hairstyles for curly hair, ItsRimi is the YouTuber for you.
Her gorgeous hairstyles have both a classy yet royal touch to them, and they are so unique! Her video CURLY Hairstyles for a SEMI-BAD Hair Day is definitely going to up your majestic curls game.
Curly Hair Youtuber Heather Banie
Last but not least, Heather Banie's incredibly gorgeous half-up hairstyles that take almost no time at all to complete. If you want to look fancy with minimal effort, Heather's video Simple Go to Hairstyles for Curly Hair is an excellent video for you. As a result, you will have some formidably amazing hair.
Heather uses Kinky Curly Curl Custard Gel to get her hair to stay where she wants it to. Custard Gel helps to sleek hair down and define the beautiful natural shape of your existing curls. You can get 8 ounces of product for $16.17 on Amazon.
Jewellianna Palencia
If you are someone who really struggles to keep her curls intact and hydrated for quick hairstyles, Palencia is the girl for you. Her Youtube channel has tons of videos on not only different curly girl hairstyles but also curly hair care tips and tricks. She has an Easy Curly Puff Tutorial, a How to: 6 Easy Hairstyles for Natural Hair, a Curly Hairstyles (Spring/Festivals ready), and so much more. She's another hair guru you can count on for tips and tricks.
JessCreationss
Another amazing resource for curly hairstyles and tips, JessCreationss has a Youtube channel filled with videos on taking care of your natural curly hair, establishing a hair routine, experimenting with hairstyles, etc. She speaks a lot about her natural hair journey and how she has embraced it over the years.
Luhhsetty
Lisette is a U.S. based youtuber who devotes her channel to helping her fellow curly girls live their best curly girl life. From hair care tips to hairstyles, she's got it all. She is proud of her curly hair and through her videos she helps many girls like her. Some of her most viewed videos include Trying New Hairstyles for a Week, How I grew My Curly Hair! *journey + tips*, Doing My Box braids for the First Time, and many more.
Her videos and tutorials are easy to follow and watch. We sure are her fans.
Natural Neiicey
Shaneice Crystal's Youtube channel is another one of our favorites, especially when it comes to her curly hair videos. Many of her videos are a great resource for any curly girl to refer to for hairstyles, hair care tips, hair growth tips, hair care routine examples, etc. She explains everything so well and her work is proof that she truly wants to help her fellow girls out. So next time you need some inspiration for your curly hair, be sure to check her out.
Maria Trott
Our final favorite curly hair Youtuber is Maria Trott. Her channel is filled with great curly hair tips and hairstyles. She even has video tutorials on how to cut and shape your own curly hair if you are up for the challenge. Some of her best videos include Bella Hadid Sleek Bun | CURLY HAIR, How I Trim My Curly Hair, 11 Sleek Curly Hairstyles, etc.
---
The above curly hair YouTubers are the perfect people to go to if you ever need more inspiration for curly hairstyles. Their stunning hairstyles will work well on both curly and wavy hair.
---
Are you interested in reading about more curly hair tips?