If you're looking for some more awesome fitness inspiration from a famous celebrity fitness trainer, look no further. You may know Jeanette Jenkins as the founder of her fitnesses company The Hollywood Trainer. 
She's helped train celebrities such as Alicia Keys and Pink! So you know you're in good hands when following her workout routines. If you loved our article on At-Home Workouts from Chanel Coco Brown's Instagram, you're going to find even more awesome fitness inspiration here! (Definitely check it out if you're interested but haven't gotten the chance to look at it yet!)
Let's get into some fantastic fitness circuits from Jeanette Jenkin's Instagram that will help get you into shape for the summer:
This Full-Body Sculpting Circuit
If you can't choose just one area to focus on in your next workout, this full-body sculpting circuit is perfect for you. All you need is your cutest hot pink fitness gear, a matching yoga mat, and some heavier free weights. 
Just make sure to keep your form right with this workout because it is quite intense. And doing the wrong form can hurt your back if you're not careful. So if you know you'll need some practice to get the forms right, start with lighter weights to build up your muscle memory first.
For this workout, you'll need:
This Cardio and Bodyweight Combo
If you don't have any additional equipment on hand but want to get your sweat on, this cardio and bodyweight-based toning combo are perfect for you. A lot of people have the misconception that if you're not using free weights or workout machines, you're not working out to your full potential. 
But there are actually a ton of different exercises that will give you a considerable workout just by using your bodyweight. If you think about it, using your body weight as resistance is actually heavier than if you were using weights! Of course, whether you should use weights or not depends totally on the workout that you're doing.
For this workout, you'll need:
This Ab and Arm Circuit
This is an impressive circuit if you want your workout to multitask! Combine ab and arm day into one with this intense workout that utilises dumbells for a loop that covers cardio, abs, and arms. 
Jeanette Jenkins recommends doing each of the workouts here for 30-60 seconds each before moving onto the next. And don't forget: It's a circuit! So you've got to do at least 2-3 sets. 
If you're not big on timing your workouts and would instead count reps, Jenkins suggests doing 10-15 reps. Reps are probably better than timing to ensure that your form is right and that you're being equal with both sides of your body. They're also a great way to get used to the workouts before speeding them up!
For this workout, you'll need:
These 7 Swiss Ball Exercises
Looking for something exciting and outside of the status quo of using dumbells? A swiss ball is so versatile for workouts. So this could be precisely the change of pace that you've been hoping for! 
Jeanette Jenkins is going to show you some super creative ways for utilising a swiss ball for your at-home workout! From planks, so modified sit-ups, flutter kicks and more, you're sure to have a good time with this workout. 
Just be sure to do the floor work on a yoga mat- especially if you have a hardwood floor. Your back will thank you for taking this extra precaution!
For this workout, you'll need:
Have Fun!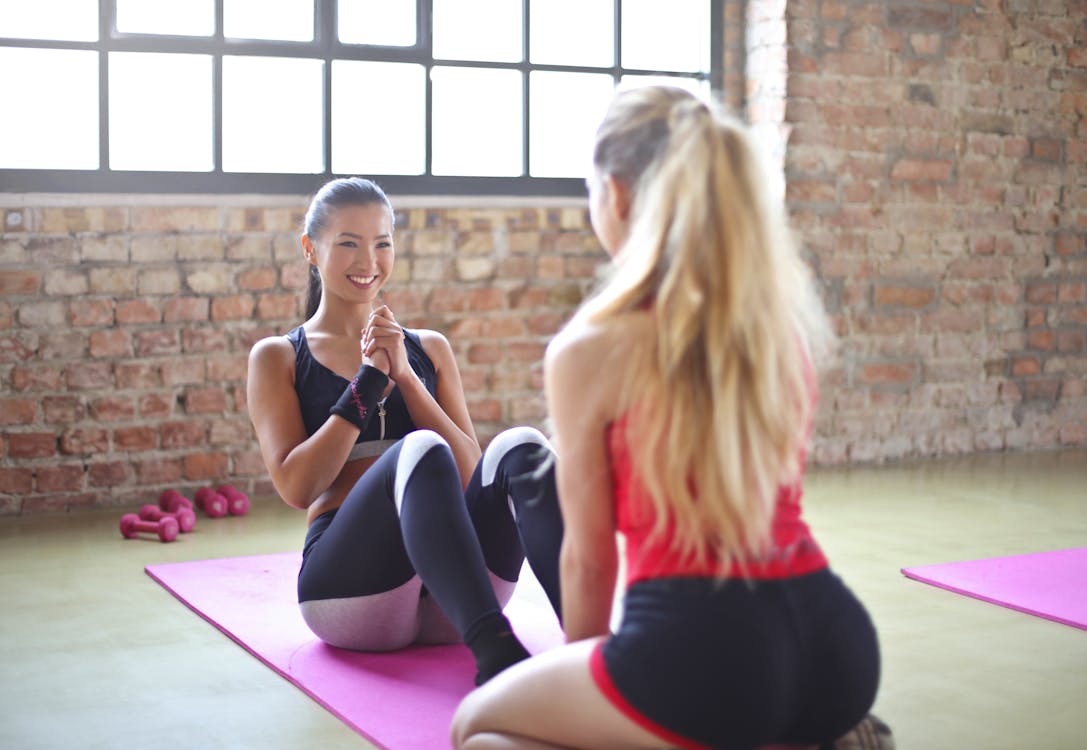 A lot of people work out to achieve physical goals. But one of the much-neglected and most essential parts that people miss about working out is that it's a fun self-care activity that helps to improve mental health! Always treat yourself kindly and enjoy!
---
If you're interested in more at-home fitness, check out At-Home Workouts from Chanel Coco Brown's Instagram.