While many of us are unfamiliar with rose water, it is definitely something that deserves more of our attention. Believe it or not, rose water has a large range of benefits and purposes. Thus, there is no surprise as to why people are so excited to incorporate the product into their self-care regimen.
Sometimes, the product can be pricey–especially if you plan to buy it directly from the store. But, don't worry if you don't have the finances to purchase rose water right now. Even if you can afford to buy rose water from the store, it is often hard to find carriers close to you. So, regardless of your circumstances, we are here to provide you with methods to make your own rose water at home!
If you are interested in knowing how rose water can be incorporated into your daily routine, and even how you can make it by yourself at home, we know you are going to love this article:
---
Physical Benefits Of Rose Water
Rose water has an incredible impact on the physical body.
This magical product is characterized as anti-inflammatory, meaning that it can aid in both treating pain and improving the appearance of inflammation all over your body. It is also known for being an antioxidant, which treats and delays cell damage.
Additionally, rose water is known to help speed up your metabolism. This is great for those who want to lose weight or burn off extra calories without having to go to the gym everyday. Even more impressive, the product is scientifically proven to reduce illnesses in the body.
---
Skin Care Benefits Of Rose Water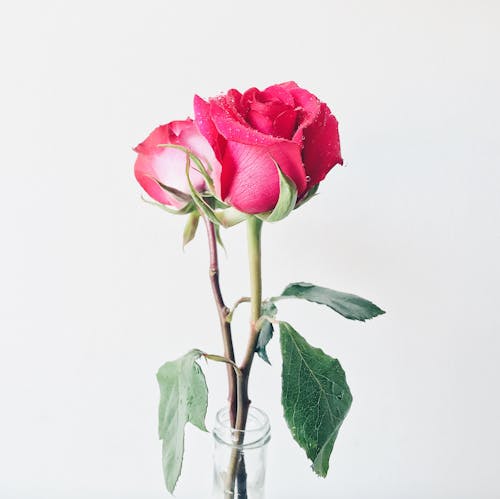 While we have established that there are so many benefits of rose water for the physical body, we have not specified how you can incorporate it into your morning routine. One of the most attractive qualities of the product lies in the multiple ways it takes care of your skin.
Rose water has many uses (including its common incorporation into food and drinks), but it is currently making big waves in the beauty industry. There are so many things that it does for your skin that make it well worth the purchase.
First, rose water actively tightens your pores–making your skin both smoother and tighter–but also works to keep out oils and bacteria that contribute to acne. The product works to smooth the appearance of wrinkles, hydrates your skin, and soothes any irritated skin.
If you are interested in reading more on skin care, check out Effective Skin Care Products on Amazon.
---
Alternative Ways To Use Rose Water
Believe it or not, there are still more ways to benefit from this product. When combined with distilled water, you can put your creation in a spray bottle for a cooling mist, or apply some on your face with a cotton ball. Furthermore, you can add rose water to your bath for a more elegant experience.
Another possibility is to combine rose water with vanilla extract, or even essential oils. The result is a wonderful, natural perfume with a scent you will adore.
---
Get Your Rose Petals
Excited to start making your rose water? The best way to start is by gathering some roses so that you can use the petals to make rose water. If you don't have any rose bushes around, you can always go to the grocery store or a flower market and grab some. One flower is plenty for a couple of batches.
Another option is buying dried rose petals. This allows you to use less of your stash when we get to the process of measuring the rose petals.
---
Let's Get Started
The easiest and fastest way to create your very own rose water is through the simmering method. These are the supplies that you'll need to make your own rose water using this method: rose petals, distilled water, a large pot, a strainer, measuring cups, and a jar, spray bottle or another container of your choice that you can seal.
Once you gather your supplies, the next step is to gather your petals. If you are using fresh flowers, get ½ cup of rose petals. If you are using dry petals, ¼ cup is more than enough for making your rose water. After you've measured out your petals, make sure to wash them well.
Next, submerge the petals. In a maximum of about 1 ½ cups of water, submerge the petals in your large pot.
---
The Simmering Method
Now that your petals are in the pot, turn it to medium heat and wait for it to simmer. When it does, cover the pot with a lid and slightly lower the heat. Leave the petals on the heat for 15-30 minutes until they've become much lighter. Then, turn the heat off and leave the lid on the pot until the mixture can completely cool.
Once the mixture is completely cool, take your strainer to separate the petals from the mixture. At this point, you can dispose of the rose petals. Any type of strainer will work, or you can even use a muslin cloth for this purpose. 
---
The Final Step
The finished product lasts in your fridge for around a month. If your plan is to keep it in a cabinet, it lasts for around a week.
Therefore, once you put it in your spray bottle, jar, or another sealed container, the best idea is to refrigerate it.
There is definitely more than meets the eye when it comes to rose water. Whether you are boosting your metabolism, taking care of your skin, or creating your own perfume, you are taking advantage of one of the best products out there. However you choose to take advantage of it, we know you will be pleased with your results.
---
As young women, it is so important to have more access to all products–especially those products that help us in so many ways. Here at Liz Fe Lifestyle, we want to make these options available to you. Whether you decide to buy rosewater in the store or make it yourself, it is undeniable that you will see and feel positive results. As a whole, it is important for us to learn more about the products we use on our bodies, and how to incorporate them into a routine that works for you.
---
Are you interested in reading more wellness articles?