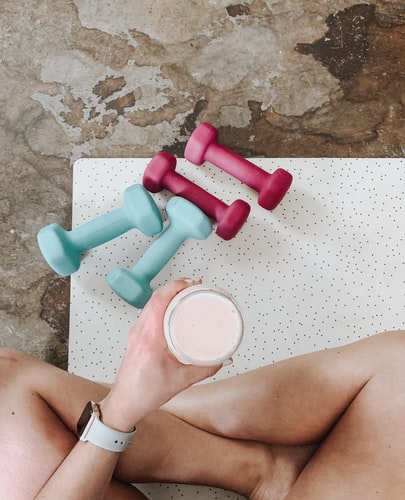 Fitness is good for everyone. And you don't have to fit into any particular box to be able to enjoy its benefits. Working out shouldn't be a means to fit into the cruel and unrealistic norms of society. It should be a form of self-care that people do because it makes them feel amazing mentally- rather than catering to the tone-deaf noise of society! All sizes and shapes can be healthy, fit, and robust. These curvy girl fitness videos show that.
Exercise helps improve mood, memory, sleep quality, and so much more. So it's the perfect way to pamper yourself! Keep in mind that you are beautiful and perfect the way that you are. Working out shouldn't be about changing your appearance. It's about loving yourself!
If you're looking for some excellent curvy girl fitness routines, we've got you covered! These 3 body-positive influencers are here to show you how they get the most out of fitness:
Sierra Schultzzie's Fitness & Health Routine
Sierra is a stunning and super-fit YouTuber with some fantastic health insights. In this video, she offers some great gems of advice such as:
Work out first- in the morning- before anything else to get it out of the way.
Do short high-intensity interval training circuits to productively save time.
Don't crash diet, restrict yourself, or feel guilty for what you eat- instead, look at food as a way to nourish yourself.
Sierra's video has many more awesome tips. So her channel is definitely worth watching for body positive ways to be healthier!
For this routine, you will need:
Chantal Sarkisian's At-Home Ab Routine
Chantal Sarkisian, known as "Chantsy" on YouTube, has an excellent curvy girl ab routine that you can do from the comfort of your home! In this fantastic routine video, Chantal shows us 4 impressive ab moves that don't require any gym equipment. 
Some of the types of moves that she features in her core-focused workout video are the following:
A crunch and push-up combo move
Leg-lifting oblique crunches
Leg-lifting crunches
And lotus poses
As Chantal states, these exercises are not the easiest to do. So it's good to start out slowly and with a smaller amount of reps until you get used to the moves. Making sure that you're doing exercises with the right form is more important than doing a considerable amount! This is an excellent strength-training video that will leave you feeling amazing after the fact.
For this workout, you will need:
Yanie Redd's Strength Workout
While quite a few of the exercises in Yanie's workout use gym equipment, there are still a few takeaways that you can try out from home. Some of these moves that you can easily do in your living room or anywhere around your home with some free space include:
Jumprope
Jumping Jacks
Squat jumping jacks
Squat jumps
Inner thigh pulls with a resistance band
Inner light pulls with weights
And wall sits
Yanie also does a few other workouts that use gym equipment such as row pulls, leg presses, and leg curls. And these are great exercises. But they're not super easy to do at home without investing in overly expensive and space-taking gym equipment. 
For this workout, you will need:
---
Everybody is beautiful. And exercise should never be something to do out of self-negativity! Everyone is so much more than just a body. And you never have to conform to what others want. What really matters is feeling confident and happy in yourself. And exercise can be a beautiful way to do that if it's done for the right reasons!
These curvy girl fitness videos are exactly what you need to lift your confidence and enhance your curves. If you're interested in more fitness and empowerment content, check out How to Include Body Positivity in Your Life and At-Home Workouts from Chanel Coco Brown's Instagram.