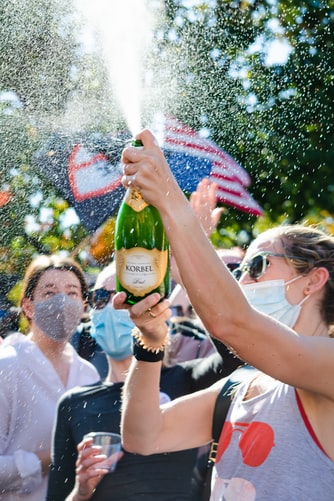 In November of 2020 a crucial event in the course of American history occurred. The presidential and vice presidential elects were finally announced. And many of us were brought to tears of relief and hope for what it means for the future of our country. Kamala Harris just broke an American glass ceiling as the United States' first ever female Vice President.
Perhaps the most inspiring event following this historical announcement was the speech given by Kamala Harris that very evening. Her speech had a message that inspired girls and women of all backgrounds, socioeconomic standing, and races. 
Besides being one of the Best Female Speakers at the 2020 Democratic Convention earlier this year, Kamala Harris is going to do so much more to inspire women across the globe. And we are here for it.
Background on Kamala Harris
Born in Oakland, California, Kamala Harris is the daughter of Afro-Jamaican and Indian Tamil parents. So on top of being the first woman to be in office, she is going to be the first woman of color to have such a high rank in the US. If that isn't progress, what is?
She is going to be the first African American, the first Asian American, the first Carribean American, the first woman to ever be vice president of the United States of America. On January 20th, 2021, she became the most powerful a woman has ever been in America.
We are certainly behind on the times because other countries have elected women to be in power. But with the exception of President Obama, the US has mostly stuck to electing white men as their presidents and vice presidents despite the fact that ANY American is allowed to run and win.
For many years, discrimination against the Black Female as been horrific and completely disrespectful. The sickness of racism has even reared its ugly head this year in 2020 with the murders of George Floyd and Breonna Taylor. So to see Kamala Harris reach the heights that she is at is so important for our country and so empowering to all of us in the name of progress.
"While I may be the first woman in this office, I will not be the last," says Harris.
Her Career in Politics
While Kamala Harris is now coming to the global stage and the VP of the US, she has been making significant waves to empower minorities, immigrants, and females for years. For instance, in 2016 when she became the first South Asian and second African American to be elected to the senate, she advocated for the following things:
Healthcare reform
A path to citizenship for undocumented immigrants
The DREAM Act
A ban on assault weapons
Tax reform. 
She also advocated for women's bodies and critically questioned the actions that the president was taking for those four years. All of which made her widely recognized and adored for her empowering stance and refusal to take crap from misogynist patriarchal power.
She was also running for president but unfortunately ended her running in 2019. On the bright side, former VP to President Obama, Joe Biden, chose her as his running mate in August 2020. And we can't wait to see how the world starts to heal and become gradually sane once she takes power.
First Female VP of Color
Seeing a woman like Harris in such a powerful position is a huge win not only for her but for all those women who see themselves in her. Throughout her campaign trail she always emphasized the importance of her family's impact on her. Specifically speaking about her late mother who traveled all the way from India to Berkeley, California for her higher studies while single-handedly raiding two daughters. This is a narrative that is not as common in the political field and one probably millions can relate to.
Being a woman of color, Harris is bringing in an important perspective on the various issues that have plagued the country. From the civil unrest over systemic racism to the COVID-19 pandemic, the Black communities have been hit the hardest along with many other minority groups.
"I felt like I was speaking to someone that understood me. She knows what it's like, the struggles of African American women, what we have to go through."

Shagara Bradshaw, Harris' Alpha Kappa Alpha sorority sister
Her Work as Vice President
With only a few months in office, Harris has been working hard to act on the promises she made during her campaign. And that too quite efficiently. According to her advisors, Harris has been doing quite a bit behind the scenes when it comes to pushing for Biden's legislative agenda. From handing out more than a 100 million economic relief checks to delivering more than 200 million COVID-19 vaccines, she has been fulfilling her duties well alongside her partner President Biden.
Harris has also been visiting various cities across the nation discussing the various issues minority groups are facing:
Oakland, California – Water equity
New Haven, Connecticut – Child poverty and education
Greensboro, North Carolina – Jobs
She is opening up a space for conversation that speak truth to the harsh realities of millions in this nation no matter how uncomfortable it makes people. It is high time that such issues are not only addressed but also acted upon. Inequity cannot be a norm and the pandemic has made that crystal clear.
[The pandemic] has exposed the failures, the fractures, the fissures that have long existed in our society, and it has made them bigger and more obvious," says Harris.
While most of the assignments completed within the White House are a team effort by the entire administration, Harris does take credit for working with Mexico and three other Central American nations on border control and immigration policies. The task at hand is not the easiest given that it has placed a political target on her back, especially those who are quick to blame her for border problems. But she is holding her ground and tackling the challenge head on.
Here are some of the other things she has been doing as Vice President:
Fought for relief packages for front-line workers
Pushed for a tex credit for low-income workers with no children
Advocated for a$110 billion child tax credit plan, intended to cut child poverty by half
Pushed for an increase in money for infrastructure and job plans (expanding on broadband service availability)
Encouraged Black people to get vaccinates as soon as possible
---
Vice President Harris has created quite the reputation for herself desire the many controversies that have attempted to plague her image. She has proven to be a strong co-leader and we are excited to see the changes she is going to bring on America's narrative.
---
Interested in more women empowerment content?